Welcome to headus UVLayout
Monday, 08 February 2010
UVLayout is a stand-alone application for the creation and editing of UV texture coordinates for 3D polymeshes and subdivision surfaces. Used by professionals in the games and visual effects industries, by hobbyists of all types and by students, UVLayout's unique approach gives texture artists the tools they need to produce high quality low distortion UVs in significantly less time than they would by traditional methods.
This is where we'll post general background information and news for everyone to see, plus links to the user guides, training videos and the latest software installs for registered support customers. Visit the Forum to read what other people have to say, or to post your own message.

UVLayout v2.10.01 Released
Tuesday, 11 July 2017
UVLayout v2.10.01 is now available for download by all users. Use the Support Login panel above to login to your support account, then click on the Support Download menu to the left to access the Windows, OS X and Linux installers.
New in this version for Professional version users is the Layers tool. Hobbyist/Student version users don't miss out because they now can use the Pack tool boxes, and the 90 degree rotation option.

The full list of changes can be found on the UVLayout Support Forum.
Saturday, 25 January 2014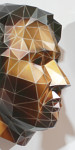 We here at headus have used UVLayout recently for a couple of art projects, using its flattening tools to make patterns for the physical creation of the art pieces. For Jill Smith's heads, the laser cut pieces were folded by hand and joined to create the portraits, and to make Harry Pannekoek's sculpture, the cut out shapes were rolled and welded into the 3m high work.
Click on the images to read more about the creation process for each art work.