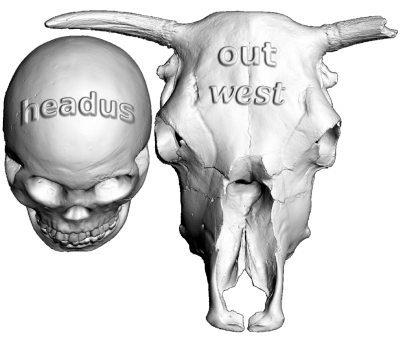 headus was formed back in 1994 after the development and success of CySurf, a tool used to fit NURBS patches to 3D face and head scans. This was the early software solution to applying NURBS patches to dense polygonal meshes.
The scanning bureau was opened in Perth in 1995, the first in Australia. Jill and Phil had just returned from a residency at MIT's Mechanical Engineering department, which was developing a ceramic 3D printing system. At MIT, they worked with the developers of the ink jet printing technology which was to become Z Corp.
In those early days, the software tools for the manipulation of 3D scan data were scarce and often proprietary software tools developed by production houses. They kept their edge by not releasing these solutions to the general market. Jill and Phil's aim was to push the boundaries and promote further development of the software solutions first seen in CySurf. Since then headus has developed CyDir, CySlice, CySize and UVLayout, all software tools that have enlarged the scope of the possible in a range of industries, but largely the film, animation and games markets. headus now has a long list of customers, leaders in the world of film and game production as well as Defense, Mining and Health Industries.
In January 2000 headus opened a second office, located at Fox Studios in Sydney. Here they based their Cyberware Full Body and Head scanning systems. Some of the films headus has worked on over the years include Pitch Black, Son of The Mask, Superman Returns, Wolverine, Narnia, Mad Max, Life of Pi and The Hobbit. headus now has a range of scanners, including the Cyberware Body and Head scanners, a Breuckmann smartSCAN 3D-HE and a Leica HDS6000.
---
headus has had a long and close connection with Cyberware, who introduced the film and CG worlds to 3D scanning. Cyberware began in the early 80's and rode the wave of invention in 3D scanning tools and the growth in CG that followed. Always generous in spirit and having a great sense of Californian fun, the family run company has made a great mark in the development of quality 3D scanning equipment and much more. headus' software tools were developed alongside Cyberware scanners and played their own role in widening what was possible. However, the world is changing and unfortunately 2011 was the year Cyberware decided to close its doors.
All past customers of Cyberware wanting to purchase headus software can buy through headus direct. The headus software tools previously sold through Cyberware are CySlice, PlyEdit, CyDir and CySurf/CyEdit.
If you are looking for Cyberware hardware support or software, email This email address is being protected from spambots. You need JavaScript enabled to view it..